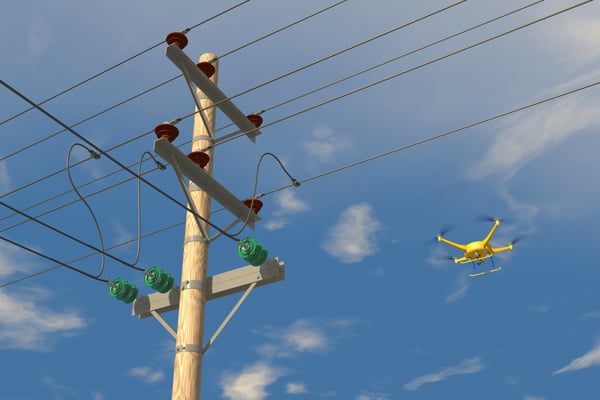 The use of unmanned aircraft systems (UAS), or drones, in the electric utility industry is set to take off. There are many potential benefits of UAS in utility operations, such as maintenance and inspections, accompanied by time and worker safety benefits.
In June 2016, when the Federal Aviation Administration (FAA) instituted new rules, or Part 107, it paved the way for more utilities to use drones. Today, with the increased availability of UAS, a paradigm shift is occurring in the way utilities perform maintenance and inspections. With their reduced costs, time efficiency and enhanced data gathering, drones are gradually replacing traditional maintenance processes. In the electric utilities industry, maintenance inspections are increasing due to lower costs, more reliable electric grids, etc.
Electric Utilities Employing Drones
UAS power line inspection services can be vital time- and money-saving components of any utility company's maintenance methods. UAS can also be essential for visual inspections of vital energy infrastructure such as electric transmission and distribution pipelines, which further the public interest by providing safe and reliable delivery of electricity and natural gas to customers.
Along with maintenance and inspection, using drones to mitigate extreme weather damage to electric utilities is yet another way unmanned aircraft are saving lives and property. For example, Oklahoma Gas and Electric recently deployed several multi-rotor inspection drones equipped with sensors and hi-res cameras to accelerate post-storm assessments and prepare for power line and wind turbine maintenance.
According to their spokeswoman, Kathleen O'Shea, "Drones have become a prominent topic of interest among utility providers in Oklahoma and across the country. They can be deployed faster than helicopters in most scenarios. We estimate that we shaved off approximately a half day of assessment time by using drones."
Dominion Virginia Power, a Virginia utility company, is also expanding their use of drones in power line inspections and maintenance. Since the company began using drones full time in 2015, in partnership with Virginia Tech, they uncovered six critical issues with their power lines. Previously, Dominion was either flying helicopters or instructing ground crews to climb up power lines to take photos. But today, drones can get different shots and angles for photos than what was possible with helicopters and crews, said Steven Eisenrauch, Dominion's manager for electric transmission, forestry and line services. Dominion also uses drones to identify spots on the lines that need repairs after storms.
The use of drones by these companies is just part of a national trend toward increased use of the technology by electric companies, and the utility industry in general.
Operational Intelligence Assists UAS Maintenance
With Simulyze's operational intelligence (OI) platform, UAS operators can operate safely and efficiently with real-time data insight and situational awareness. Drone applications built on OI platforms can also integrate and correlate big data sources from any platform to standardize the information and provide in-depth intelligence. This offers a complete operational view of workflow data and provides deep analytics for insight into real-time events that enable well-informed decisions.
While Part 107 completely changed what it means to operate drones for commercial purposes in the U.S., the rule does not allow operators to fly over non-participants or fly beyond visual line-of-sight. Despite the slow-go approach of the FAA, the potential for UAS technology in the electric utilities industries is vast. The technology is developing by leaps and bounds—constantly paving the way for utilities and energy companies to improve operational efficiency. From thermal imaging, GPS, LiDAR and other sensors, it has become a transformative technology with deep implications for worker safety, system reliability, grid resilience and more.
To learn about the many ways utilities companies can benefit from drones, download our infographic: 7 Reasons Why the Utilities Industry Should Be Employing Drones now!
And schedule a demo today to learn more about how operational intelligence (OI) technology provides the foundation needed for drones to take flight in electric utilities maintenance.
DroneBlog