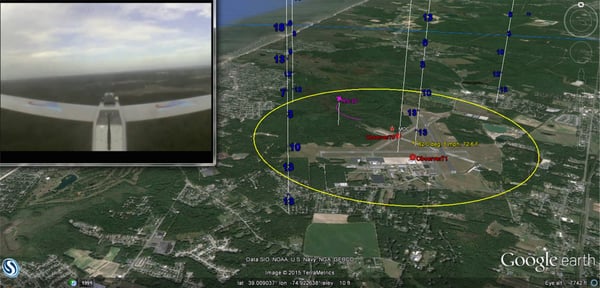 As the commercial unmanned aircraft systems (UAS) industry is poised for massive growth — it's to reach $80 billion by 2025, according to some estimates — we're excited to officially announce the launch of Mission Insight™ and, along with it, our expansion to the commercial UAS market.
Built on our proprietary operational intelligence (OI) platform, Mission Insight processes and analyzes large streams of data – both structured and unstructured – from a wide variety of data sources in real-time to provide UAS operators with a common operating picture (COP) in a single, customized graphical interface. Some of the data sources that Mission Insight can interpret, standardize and fuse include: sensory data, weather, Global Positioning System (GPS) tracking, social media data, video metadata, radar intelligence (RADINT), Unmanned Aerial Vehicle (UAV) data, databases, imagery and signals intelligence (SIGINT).
Available as a packaged, commercial off-the-shelf (COTS) application, it provides unprecedented situational awareness in real-time to a variety of operational environments, from enterprise server systems to a single user. Ultimately, Mission Insight enables better, more strategic decisions through a single, complete operational view of workflow data, from pre-operational planning to post-event analysis.
Mission Insight builds on the success of our Flight Control® solution, which we created and developed as one of the first air, ground and maritime visualization tools to enable commanders, mission planners and analysts to see a complete and accurate picture of an operating space. Throughout the last 15 years, our technology has been deployed across numerous organizations, including the U.S. military/Department of Defense, the U.S. intelligence community and homeland security.
Some of Mission Insight's other advanced technical features include: complex data filtering, and advanced processing and timing techniques that allow low-bandwidth transmission; a range of analytics, from simple calculations like distance and proximity, to complex terrain analysis, such as line of sight and intervisibility; a suite of tools designed for command and control of remote sensors within the COP architecture; multiple, customizable alerting functions, including geo-fences, relative movement, position reports and keywords; and security safeguards for processing and analyzing data vital to U.S. national security, including data residing on classified networks.
As the Federal Aviation Administration (FAA) nears a decision on a regulatory approach to UAS, we see Mission Insight as the right technological tool at just the right time — having already been tested and proven in real-world, non-civilian applications — that can safely integrate commercial UAS in to the National Airspace. After all, there are virtually unlimited numbers of uses for commercial UASs, including aerial photography and surveying, agriculture, construction, infrastructure and utilities inspection, emergency management, search and rescue, disaster recovery and oil and gas exploration, just to name a few.
We're very enthusiastic about this next chapter for our company. If you'd like to learn more about Mission Insight or would like to schedule a demo, please contact us.
DroneBlog