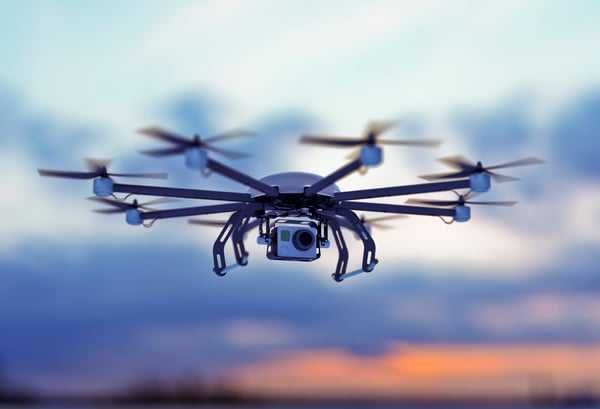 The unmanned aircraft systems (UAS) industry is primed for take off as the U.S. Federal Aviation Administration (FAA) nears it decision on the use of commercial drones in U.S. airspace. With commercial applications such as agriculture, real estate and even mining and construction waiting for the FAA's regulations, the industry is poised for dramatic growth.
Analyst firm Teal Group finds that the UAS industry is the most dynamic growth sector of the world aerospace industry during this decade. Its analysts estimate that, once regulations are announced, commercial drones will become a billion dollar industry in the U.S. In fact, by 2025, the industry could total more than $80 billion, according to the Association for Unmanned Vehicle Systems International (AUVSI).
UAS Flight in the Busy, Complex U.S. Airspace
Introducing UASs into the nation's airspace is particularly challenging because the U.S. has the busiest, most complex airspace in the world, with an average of 87,000 manned flights a day and 5,000 planes in the air at any given time. The FAA is taking an incremental, measured approach to safe UAS integration—so far, the FAA only allows limited use of U.S. airspace for drones in very few locations—and is expected to release full guidelines in 2016.
For adoption to increase and the general public, as well as the FAA and other governing bodies, to feel truly at ease with drones and manned flights in shared air space, the two aircraft must be able to solve their communication challenges. Additionally, drone pilots need technology that provides real-time data processing that enables complete situational awareness – much like manned flights..
The good news? That technology already exists, and it can solve both challenges.
Operational Intelligence: Accelerating Commercial UAS Adoption
One critical piece of the command and control puzzle that can accelerate the commercial UAS timeline is operational intelligence (OI). The technology prioritizes information to provide complete mission and flight information at the fingertips of UAS pilots.
Drone pilots using an OI platform can aggregate vast amounts of disparate data in a central location, regardless of format or originating program, such as weather, GPS tracking, social media, radar intelligence (RADINT) and video metadata. The end result: smarter decision-making by correlating a wide variety of events and data to gain real-time visibility of information, in context, through an advanced dashboard.
OI technology is a mature, proven technology that has been in use in military applications for decades, providing a common operating picture (COP) for UAS operators and commands alike.
OI technology really excels in two key areas for commercial UAS applications – complex mission planning and post-event analysis. OI solutions can quickly integrate with existing infrastructures, working seamlessly with technology solutions and hardware already in place to create a standardized picture of the entire flight process – from pre-flight planning to post-event replay – that can aid in training, post-operation analysis, incident investigation and reviewing operational effectiveness.
By delivering visibility and insight into data, streaming events and operations, OI will help ensure safety in the skies as more drones join the ranks. It could be just the tool that the FAA needs to help accelerate adoption of the commercial unmanned systems industry.
To learn more about the role that operational intelligence (OI) can play in unmanned aircraft systems' (UAS) adoption, download our free eBook.
DroneBlog