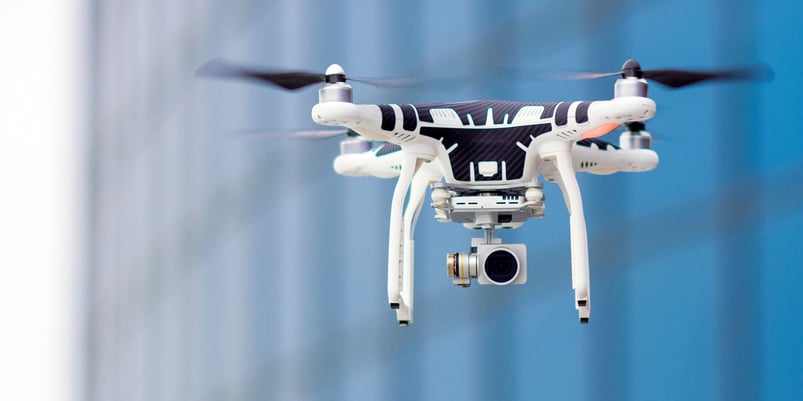 The typical beeping and chiming of slot machines in Las Vegas was replaced with the buzzing of drones in flight at the recent CES 2017 conference. The technology hit new heights as thousands of companies arrived to show off their latest innovations targeted at consumers.
Within the span of two years UAS have gotten their own dedicated area in the convention hall, and they were sure to fill it with drones of all shapes, sizes and functions. This industry is only continuing to grow, getting bigger and better for techies who want to take to the skies.
From an underwater UAS application for "immersive fishing" to a selfie drone, here's a look at UAS tech that impressed us the most.
PowerEgg drone
From PowerVision, the PowerEgg is an egg-shaped collapsible quadcopter, that looks like it should belong in a Transformers movie. This unique drone pops out of its plastic casing when it's time to fly and uses its retractable landing and propeller struts to fly and land. Weighing at around only 4.5 pounds, it features on-board GPS, a 4K camera and relies on your iOS or Android device for processing power.
Underwater drone
Also from PowerVision, the underwater drone named PowerRay is set to change the fishing world with a revolutionary experience. Geared towards tech-minded fishing enthusiasts, this drone can dive as deep as 98 feet under water while collecting and sending images and data up to 262 feet. It even includes an internal fish-luring light to assist fisherman. And with the complementary mobile app, you can view real-time photos or video, information on fish distribution, underwater landscape, fish alerts and more.
Modular drone
With basic engineering and coding, the modular and programmable starter drone from Airblock can become whatever you want. It's the first drone of its kind that can be turned into a hovercraft, car and more. It's made of magnetic, modular parts for easy assembly and disassembly and accomplishes its stunts through drag-and-drop programming—the Airblock drone is truly only limited by your imagination.
Selfie drone
A selfie-enthusiasts dream come true, the Passport from Hover Camera is your self-flying personal photographer. It can detect, follow and record you during all of your travels and activities. This drone records video in 4K resolution and takes 13-megapixel photos. It's also light, durable and small enough to easily fit into a purse or backpack. As a plus, it's .534-lb. weight keeps it below the FAA's .55-lb. threshold that requires owners to register their drones.
Security drone
Alarm.com's Insights Engine and Qualcomm's Snapdragon Fight Drone Platform have come together to create an autonomous, video-enabled drone application that increases the capabilities of smart home and business security systems. Qualcomm's platform allows for flight control and machine learning in real time on board the drone. The drone is designed to autonomously navigate through a property and provide a high-resolution video feed to the property owner.
At the CES conference, Qualcomm set up a booth that resembled a messy warehouse in order to demonstrate their agile technology and how well it can operate indoors and in unstable settings without using any GPS. This is a necessary feature for drones to be useful in building inspections after a severe storm or for security in a warehouse, for example, where GPS typically doesn't work well.
Drones have become widely prevalent thanks to last year's move by the FAA to open the skies to further commercial and consumer use. CES 2017 saw the next wave of advancements from exhibitors and vendors who showed us what they think we'll be buying in the coming year.
Simulyze's Operational Intelligence (OI) platform provides the foundation needed for safe UAS flight in the National Airspace and real-time data insight. Together, OI as well as the most recent regulations are helping to foster this growing industry.
Contact us today to schedule a demo and to learn more about the role OI can play in further accelerating the commercial UAS timeline while ensuring safety throughout our skies.
DroneBlog