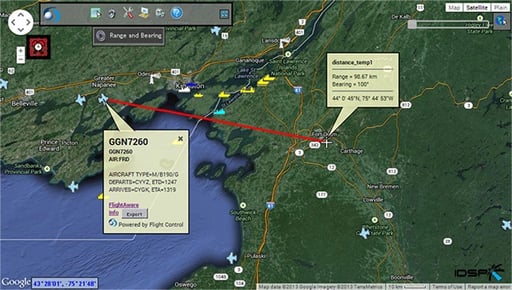 In a very short time, drones have gone from high-tech military hardware to a hobbyist's play thing and, in just the last few years, have enhanced a wide range of commercial applications. Drones are now routinely used for inspections of bridges, pipelines, wind turbines, utility structures and roadways. They are serving numerous agricultural uses like monitoring crops, counting livestock, accurately deploying pesticides and addressing irrigation issues. Drones are showing up at search and rescue missions, border control surveillance operations, assessing storm damage for insurance companies, weather tracking and forecasting, and of course aerial photography for mapping, movies and news programs.
Even though the use of commercial drones is still in its infancy, traditional industries have begun to realize the value of adopting UAVs into their operations. And with so many pioneering uses coming into play, integrating, correlating and understanding the reams of real-time data they can now obtain is a challenge for UAV operators.
That's where operational intelligence (OI) technology comes in.
An OI platform takes real-time data from a variety of sources and visually presents it so UAV operators can make informed decisions and analysis on the fly (so to speak). OI for commercial use grew out of the military versions that provided mission commanders and analysts with a complete and accurate picture of the battlefield. Simulyze's operational intelligence platform interprets, standardizes and fuses highly disparate data sources in real time with a customizable graphical interface, providing unprecedented situational awareness and insight for complex military operations.
As the use of drones expanded into commercial industries, the need for OI expanded as well. OI is gaining a logistical role in multiple industries as companies pursue greater insights and visibility into streaming events, data and business operations.
A typical drone operation requires and produces more data than just the location and altitude of the drone itself. It might require weather and wind conditions, nearby air traffic information, GPS and topological data. The data could be streaming in from multiple devices in various formats, much of it unusable in raw form.
Putting big data and real-time intelligence together into a manageable, accessible format is the job of the OI platform. The Simulyze Mission Insight™ application bridges the gap in data flow to enable commercial unmanned operations easy access to data in any format, regardless of location, to provide a common operating picture (COP). Users can improve predictive, preventative and reactive analysis powered by sophisticated algorithms for total operational and situational awareness.
Another challenge with data collection occurs when drones are used in out-of-the-way areas, such as a search-and-rescue mission in a remote wilderness, that don't have good Wi-Fi or cell connectivity. Mission Insight™ uses complex data filtering, advanced processing and timing techniques to prioritize data and allow transmission as low as 2400 baud. This provides both the deployed operators and command with the information needed to make time-sensitive decisions.
As the use of commercial drones evolve, so will OI technology, incorporating complex algorithms and artificial intelligence (AI), the same technology found in self-driving cars. This will enable drones to "learn" to function independently of an operator and make critical decisions on their own. Leveraging proven OI technology will also provide safe and effective UAV operations as the industry awaits formal guidelines from the FAA on the use of commercial drones in U.S. airspace.
Schedule a demo with Simulyze today to see how operational intelligence applications provide a foundation for UAS flight safety.