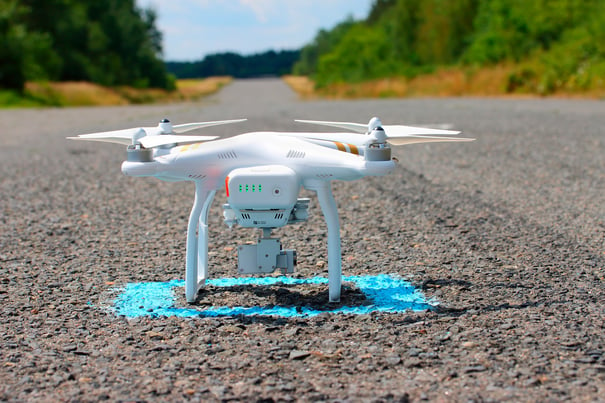 Last month, the Association for Unmanned Vehicle Systems International (AUVSI) hosted the largest trade show for the systems and robotics industry in New Orleans. XPONENTIAL 2016 hosted more than 8,000 leaders and professionals in robotics and unmanned systems who came together to discuss the latest advancements and innovations in the unmanned systems market.
Thought leaders from the U.S. Navy, the Federal Aviation Administration (FAA), NASA and the AUVSI president and CEO were all in attendance. The conference gave pioneering drone and unmanned aircraft systems (UAS) companies across various industries the platform to showcase their latest technologies, strategies and software. Also in attendance were cutting-edge companies like Amazon, Raytheon, Lockheed Martin and Google, as well as Simulyze, Inc., a leading provider of operational intelligence (OI) technology and applications for both federal and commercial sectors.
After launching its Mission Insight™ technology this February, Simulyze leaders have been busy with industry events, such as the successful deployment of Mission Insight during NASA's first nationwide test of its UAS traffic management (UTM) research platform.
Recently, Simulyze's President and CEO, Kevin Gallagher, and Director of Business Development, Justin Steinke, sat down to discuss their thoughts on the conference.
Question: How was your experience at this year's AUVSI XPONENTIAL conference? What issues were the main focus?
AUVSI is always a great show with a lot going on. It was great to meet with other thought leaders in the industry and listen to several keynotes. Keynotes from Gur Kimchi, co-founder and vice president of Amazon Prime Air, and administrator of the FAA, Michael P. Huerta, for example, were particularly interesting.
The conference in general offered a lot of fascinating launch points for discussions, such as how to really start thinking about drones in the enterprise. The looming issue is the integration of UASs into the national airspace—there was a lot of attention from NASA and the FAA on this!
Q: Was there one industry that was most represented?
There was great representation all around, really. We saw companies from within agriculture, construction, energy and utilities, mapping and surveying, oil and gas and transportation—most industries in drone technology were out in full force. Maritime actually had a lot more coverage than we were expecting. Within the unmanned systems space, a lot of the focus is on aerial vehicles, but maritime was well represented and showed a lot of capabilities.
Remotely operated unmanned underwater vessels have been used quite a bit throughout the history of unmanned operations, and there are a lot of good technical advancements going on there. Underwater drones have been used in the oil spill off the Gulf of Mexico, in the search for the missing Malaysian airliner, for general ship repair, bridge infrastructure repair and much more.
The conference was truly a very diverse community with lots of ideas and technologies coming together.
Q: Did you see any new products that you thought were particularly visionary and innovative?
An interesting thing to see was how far UASs have come. Just a few years ago the biggest goal was to take a UAS and get it into the air. Fast-forwarding to this year, there was so much refined technology with specific purposes and particular use cases. Many more industries are starting to take UASs very seriously and using them to perform a variety of different tasks with a lot of great capabilities coming together. We're starting to see the technologies advance rapidly towards those specific goals.
One cool aircraft we saw was called Silent Falcon, a solar-electric aircraft that is designed to be as silent as possible. Its six blades help it operate much more quietly compared to other drones, and solar panels span the entire wings to give the drone incredible flight endurance. They are working to make drones more efficient and easier to fly, which was really exciting to see.
We also saw a rugged UAS developed in conjunction with an Alaskan test site called SeaHunter made by Griffon Airspace. They particularly needed an aircraft that could manage the unique Alaskan environment that they operate in, so they created specific technology to address these needs. They are really taking everything to the next level and improving drone technology, which is quite exciting to watch.
Q: What was the craziest thing you saw?
While drones that are delivering coffee or bringing beer to ice fisherman are always attention grabbing, the truly exciting improvements in UAS technology that will deliver true benefits to the industry are developments like a float system that you could attach to the bottom of a DGI Phantom. If your drone accidentally lands in the water, say because of a dying battery, it would float rather than be destroyed or lost like drone pilots encounter today.
Q: Did you attend any educational sessions? If so, what were some of the key takeaways?
We went to a session where they discussed unmanned traffic management. The key takeaway is that it's still a work in progress, but the positive side is that a number of the government agencies are working very closely together – NASA, the FAA and the DOD. They are working really hard for everyone to have a good path forward. In general, the projects are going well, and they are making giant leaps and rapid progress.
Q: Were there any companies exhibiting that led you to believe they were ahead of the game on commercial UAS?
The most prominent one is probably DJI. They have about 70 percent of the market for a lot of the drones that are being sold, and they're continuing to make leaps forward and enhance their existing products. They had some new cameras displayed at the conference and an infrared sensor that they can put on the cameras. The infrared sensor allows you to see body heat in the dark or through smoke, which will be very beneficial to search and rescue missions and other applications. They are probably the most forward-thinking company out there, and they have been very successful so far.
Q: How do you see the drone technology market place changing in the in the near future?
We like to think there will be many more large-scale companies and enterprise-level applications for drone use. There are certainly a lot of applications that people have thought of on small scales. More and more industries will begin to employ drones as the rules begin to ease up and drones become easier to operate. Hopefully, the new rules soon to come from the FAA will advance some of that as well.
We believe that technologies will continue to emerge for the different use cases where there really is a cost-savings benefit as opposed to employing a human, which is probably going to lead the technology down the road.
We think bigger advancements are soon to come, as a lot more people are able to operate drones, and there are now more ways to get things accomplished in the airspace.
Q: And finally, what do you see in Simulyze's future?
AUVSI further solidified Simulyze's focus. We plan to stay the course, and we think operational intelligence is really a key element in enabling broader commercial applications for drones and UASs. Enabling things such as beyond visual line of sight and integrating traffic management capability are key to safe and efficient flight in the national airspace. The industry is growing and advancing more quickly than ever, but coming out of XPONENTIAL, it was clear to us that this is still a gap and a need in the industry. We believe that our OI technology is the right focus to help accelerate the regulations that are needed to enable commercial operations.
To learn more about the role that operational intelligence (OI) can play in unmanned aircraft systems' (UAS) adoption, please download our free eBook.
To learn more about Simulyze's Mission Insight technology or to schedule a demo, please contact us.
DroneBlog