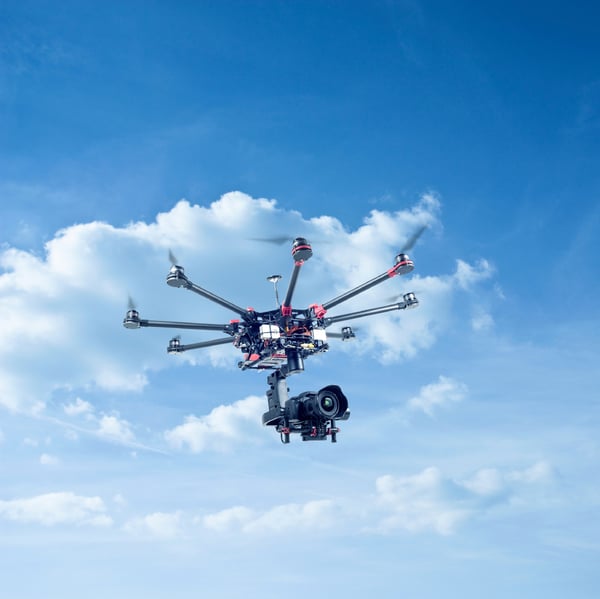 As drones become more and more mainstream, they're being used for initiatives other than military operations and the global defense industry—and now drones are forging a new frontier in cinematography.
The film industry has started employing this relatively new technology more and more as flight regulations are slowly being lifted. Drones are enabling filmmakers to go where they've never been able to go before and create amazing shots – think sweeping wide shots of hard-to-reach landscapes or tight follow-along views of action sequences – that they haven't been able to capture with standard techniques and helicopter flyovers. With this technology at directors' disposals, the cinematic possibilities are vast.
New FAA Regulations Transform the Film Industry
Drones – or unmanned aerial vehicles (UAVs) – are increasingly being used commercially for aerial filming, and the prices are dropping enough for mass consumer use. Because of this, UAVs are even transforming television and film production.
However, these are the very early days of drone filmmaking, as directors and cinematographers are only just beginning to capitalize on the aesthetic potential of this new technology. Although Hollywood has known for some time about the potential for using drones to capture aerial shots, up until 2012, the U.S. had a blanket ban on using any drones for commercial purposes. This meant filmmakers couldn't utilize the technology until only recently. In 2014 the Federal Aviation Administration (FAA) began passing exemptions on a case-by-case basis for drone filming companies, so the first productions to capitalize on the ruling are just now appearing in cinemas and on TV.
Some famous films with drone-recorded footage include Martin Scorsese's The Wolf of Wall Street, Harry Potter and the Chamber of Secrets, the Mission Impossible franchise, The Expendables 3, Captain America and Transformers: Age of Extinction. Most of those films, however, were filmed outside of the U.S., where there are fewer restrictions on drone usage.
Many people, and especially filmmakers, are fighting for the right to shoot footage with drones in the U.S. today. Drones offer directors more freedom to explore the beauty of the surrounding environment and offer unique camera angles for exceptional footage. Filmmakers hope to give audiences a new, ultra-detailed perspective using UAV technology. It also gives viewers the chance to experience these far-flung places as if they were there themselves.
Celebrating Drone Filmmaking
This unique perspective is even earning accolades from those in the industry. The New York City Drone Film Festival was created in 2015 to award remarkable drone usage in cinematography. It marked the world's first drone film festival and comprises films where at least 50% of the footage is shot using a drone. The film festival provides a platform for aerial filmmakers to showcase their work, and the festival organizers hope to make drones less of a taboo subject for the general public. Festival judges make their decisions based on things like innovative flight techniques and the aesthetic beauty of the images. Independent footage, short films and even music videos have been among the award winners at the film festival.
Director, landscape photographer and aerial cinematographer Randy Scott Slavin founded the film festival with a desire to change the perceptions of drones and foster a celebration of the art of aerial cinematography. "Drones are the most important cinematic tool since the tripod," declared Slavin. "They have been instrumental in capturing some of the most iconic cinematography in recent memory," he said, referencing drone footage in the Oscar-winning opening sequence of the latest James Bond film, Skyfall, and many of the landscape images in the Netflix series Narcos.
Drones Come to the Small Screen
Drones aren't just ideal for creating shots in larger, big-budget films. In TV productions, UAVs are being used for everything from car commercials to news programs to televised sports. They are generally becoming a permanent addition to aerial filmmakers' toolboxes thanks to their relative ease, agility and low cost. They are also safer than traditional methods for capturing the perfect aerial shot, enabling those tough and traditionally expensive shots to get easier. TV producers can now create more distinctive footage because drones can go where manned aircraft can't—dropping down into narrow spaces such as alley ways or canyons or even flying through doors and windows.
For example, the BBC is calling Planet Earth II, set to debut later this year, its "most high-tech series ever." The series will capture footage of elusive and dangerous animals using ultra-high speed, high-definition cameras mounted on drones. UAVs can bring the audience closer to the subject matter than ever before, and in this particular TV series, they will be able to see the most extraordinary ways animals survive throughout Earth's unique habitats.
Augment Drone Technology with Operational Intelligence
The great benefits of drone technology in filmmaking can be augmented even further with operational intelligence (OI). Pre- and post-production planning native to OI applications for UAVs, including incorporating weather forecasts, maps and topography of the local area and other data, can help directors and producers make sure filming goes off without a hitch.
Unmanned aerial vehicles are becoming more robust, and the ability to stabilize high-quality cameras is becoming much easier, so it's highly likely their popularity for commercial and entertainment purposes is going to continue to rise. Considering the number of new companies dedicated to drone cinematography popping up, many more can be expected to follow (Disney even has plans to utilize drones in its theme parks). Only time will tell how big an impact drones will have on the future of film and exactly how they will change the way that films are made, but they are surely set to become even more common in the skies over America and beyond.
To learn more about operational intelligence's impact on the adoption of unmanned aerial vehicles (UAVs) or drones in commercial applications like filmmaking, download our free eBook.
DroneBlog