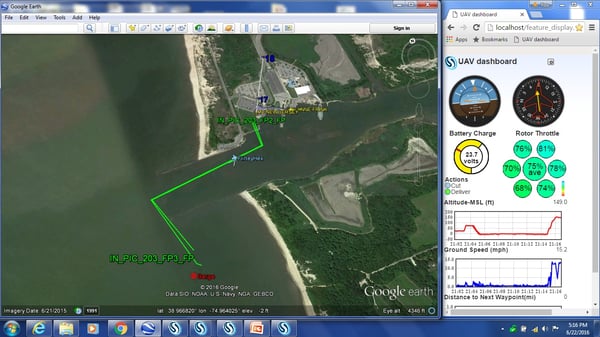 Following Simulyze's successful support of NASA's first nationwide drone traffic management test flights this April, we have even more exciting news – we successfully deployed our Mission Insight OI (operational intelligence) application again this month. During the first U.S. ship-to-shore drone delivery at the Cape May-Lewes Ferry Terminal in North Cape May, N.J., the application gathered, processed, transmitted and visualized situational awareness data from unmanned aircraft systems (UAS) during the June 22nd Drones in Disasters 'Do Tank' event.
During the event, Simulyze, along with other key sponsors, demonstrated the potential use of drones to deliver medical supplies during a natural disaster or humanitarian crisis. The UAS flights were flown round-trip from a ship located about half a mile offshore from the ferry terminal. Many of the findings that Simulyze achieved during the event will be used in future efforts to further humanitarian solutions through UAS technology.
UAS activities are actively encouraged within the Cape May County peninsula. This is in line with Congress's designation of New Jersey, part of the Mid-Atlantic Aviation Partnership, as one of the six test sites within the U.S. to develop research findings and operational experiences to help ensure the safe integration of UAS into the nation's airspace. The event along the New Jersey coastline brought key thought leaders together to educate the private sector about the potential of drones as disaster relief tools and to conduct aeronautical research about integrating drones into the National Airspace System (NAS). The Field Innovation Team (FIT), a nonprofit disaster preparedness group, conducted the 'Do Tank'—a design thinking workshop focusing on the humanitarian use of drones in disasters for the United Nations and American Red Cross, as well as leading academics and drone technology companies.
The shore-to-ship and ship-to-shore deliveries are a template for how to integrate data from drones into existing data flow and make it possible for drones to operate safely in U.S. airspace. The demonstration, which included processing and visualizing data about ships, manned aircraft, UAS and weather, further emphasized the critical need for having a broader, real-time picture than just knowing the location of a UAS.
Last month's UAS flights demonstrated an ability to collaborate and coordinate with both the UAS and larger aviation communities. Simulyze's Mission Insight was deployed to deliver information to UAS operators by coordinating and collaborating with the Federal Aviation Administration's (FAA) William J. Hughes Technical Center. The FAA's Tech Center provided real-time, regional aircraft position data and Mission Insight provided aircraft telemetry and other local data back to FAA's Tech Center platform based in Atlantic City. Mission Insight provided real-time processing of telemetry data from the Flirtey UAV, an independent drone delivery service. The application also supplied an integrated display of FAA aircraft data and weather information, situational awareness to support safe flying within the national and local airspaces, real-time alerts of flight boundary violations and other potential flight conflicts.
Mission Insight provided augmented geospatial and dashboard views of the operational data, extending the capabilities of the ground control station displays, and provided the air boss situational awareness to support the safe flight both within the NAS and the local area. In addition to the Flirtey UAV telemetry data, the local FAA aircraft feed and NOAA weather data, Mission Insight provided integrated data processing and display of a number of local sensors bringing in local Automatic Dependent Surveillance-Broadcast (ADS-B) aircraft feed to augment the overall FAA aircraft feed, GPS tracking data from various key participants of the exercise, maritime tracking data through a local Automatic Identification System (AIS) receiver for key deconfliction in the operational area and a local weather station.
Operational Intelligence's Importance in UAS Adoption
During the event, Mission Insight offered UAS management with unprecedented situational awareness in real time and complex mission planning. Built on Simulyze's proprietary OI platform, Mission Insight processes and analyzes large streams of data from disparate sources to provide UAS operators with a common operating picture in a customized graphical interface.
OI provides the visibility and insight into data that will help ensure safety as more drones enter our skies. It does this by providing a single, complete operational overview of post workflow data that provides deep analytics, real-time processing, insight and intelligence that enable better-informed decision making. Even in remote areas, OI can integrate data sources for complete tactical situational awareness.
Simulyze is proud to have participated in the Drones in Disasters 'Do Tank' event to demonstrate the capabilities of our OI platform and Mission Insight application and the potential to change the face of disaster relief. As humanitarians in the sky, UAS can be used in humanitarian response around the world, especially during hurricanes, earthquakes, typhoons and other search and rescue missions in remote areas. Many humanitarian organizations are actively exploring the use of UAS for disaster response, which explains why the United Nations published official policy brief on the topic back in 2014.
And with continued research, leaders in UAS technology are making the case for their usage in natural disasters and their life-saving potential. The implementation of OI will help promote the safe and responsible use of UAS in humanitarian settings. With the help of OI technology, drones can capture aerial imagery at a far higher resolution, more quickly and at a much lower cost than with traditional satellite imagery. It also allows operators to not only avoid other aircraft, but ships and other obstacles as well.
"Drones are unique because they can go where there are no roads. When infrastructure and roads are washed away, drones are a way to get around that," said Dr. Timothy Kien Amukele of John Hopkins Medicine who was also in attendance. In the event of natural disasters such as Hurricane Sandy or Typhoon Haiyan in the Philippines, drones are becoming more and more essential to disaster relief efforts and humanitarian crises.
The Drones in Disasters 'Do Tank' event and workshops demonstrate the capabilities and potential of operational intelligence (OI) during unmanned flights as a disaster solution for use in humanitarian crises. As the FAA has released the small UAS rule (Part 107) and releases new regulations, the future is sure to hold exciting developments.
To learn more about the role that OI can play in the UAS adoption, download our eBook, "Operational Intelligence: Enabling the Future of Commercial Unmanned Operations."
DroneBlog