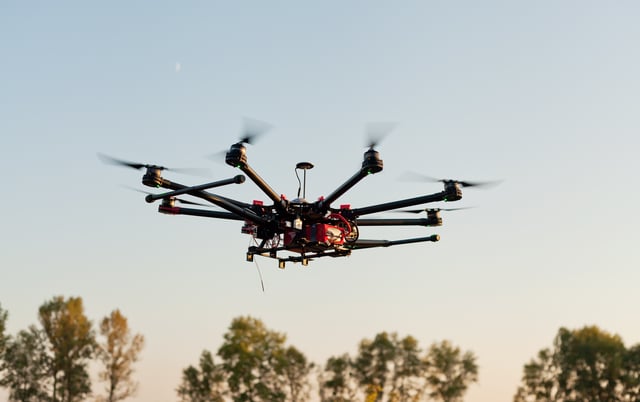 Drones continue to rise in popularity, for both commercial and private industry. Research firm Markets on Markets predicts that the global drone industry will grow to reach $5.6 billion by 2020. That's a potential for quite a few drones in the shared airspace.
With all of these unmanned aircraft systems (UAS) taking to the skies, the question remains – how can you safely integrate them into existing Federal Aviation Administration (FAA) workflows? It's something the FAA has been wrestling with for quite a while now. They've released a number of regulations to address drone flight – from the Section 333 Exemption to the latest regulations released in August 2016, getting it "right" is not only a matter of public safety, it also affects the future of a number of commercial applications.
Luckily, there are quite a few enterprising companies and organizations working in cooperation with the FAA and other U.S. government departments on the task of helping find the best – and safest – solution. Testing exercises like this June's Disasters 'Do Tank' event help make the case for the technology and best practices required to safely integrate UAS into the National Airspace.
The Disasters 'Do Tank' event, which took place at the Cape May-Lewes Ferry Terminal in North Cape May, N.J., was the first ship-to-shore drone delivery demonstration. The UAS flights were flown round‐trip from the terminal to a ship located approximately 1⁄2‐mile offshore. The event was held in support of the first U.S. ship‐to‐shore drone delivery, as well as to encourage UAS flight safety and integration into the National Airspace. During the event, Simulyze deployed its Mission Insight™ application to demonstrate the potential use of drones to deliver medical supplies during a natural disaster or humanitarian crisis in cooperation with other key event sponsors.
Simulyze used the ship‐to‐shore delivery as a template for integrating data from drones into existing processes. Here, we've rounded up several of the best practices for safely integrating drones into existing workflows and the National Airspace.
Best Practices for the Safe Integration of UAS
Safely flying and integrating UAS into the National Airspace System (NAS) requires a multi‐tiered approach for risk management. The ship-to-shore drone delivery event helped establish a template that could be combined with a traffic management system, such as the research platform being developed by NASA, to support safety from the perspectives of both UAS and other aviation in the NAS.
In addition, coordinating with manned aviation through a portal like the FAA's Flight Service Station, for example, is another necessary aspect of this approach.
Putting these safety best practices into action for UAS operations requires that the operator be able to analyze and measure internal and external elements and assess the potential risks they could pose to an operation. As commercial operators, recognizing and mitigating risks is crucial to maintaining safe practices.
How Operational Intelligence Supports Safe Integration
The Disasters 'Do Tank' ship-to-shore drone delivery exercise demonstrated that use of operational intelligence (OI) is an essential best practice for maintaining UAS flight safety. The UAS flights during the event showcased an ability to collaborate and coordinate with both the UAS and larger aviation communities. At the event, Simulyze's Mission Insight OI application provided safe operations and delivered information to UAS operators by coordinating with the FAA William J. Hughes Technical Center.
Four tiers of information were used to support safe flight operations including static planning data, regional data, local real‐time data and UAS telemetry data. Mission Insight provided the aircraft telemetry and other local data back to FAA's Tech Center platform located in Atlantic City. The Mission Insight application processed the telemetry data in real-time and supplied an integrated display of FAA aircraft data. It also provided weather information, real-time alerts of flight boundary violations and other potential flight conflicts and situational awareness to support safe flying within the national and local airspaces.
The application offered geospatial dashboard views of the operational data, increasing the capabilities of the ground control station displays. Using Mission Insight, the air boss had complete situational awareness to support the safe flight both within the NAS and the surrounding local area.
In addition to the data in use during the Disasters 'Do Tank' demonstration, Mission Insight is capable of processing and analyzing large streams of data from disparate sources to give UAS operators a common operating picture in a custom graphical interface. This provides UAS management with unprecedented situational awareness in real-time and enables complex mission planning.
OI provides the visibility and insight into data that will help ensure UAS flight safety as more drones enter the National Airspace. It does this by presenting a single, complete operational overview of post workflow data that provides deep analytics, real-time processing, insight and intelligence that support informed decision making. Even in remote areas, OI can manage an entire data workflow from pre-operational planning to post-event analysis, as well as integrate data sources for complete tactical situational awareness
The Future of UAS
As the FAA has implemented the small UAS rule (Part 107) and continues to release new regulations, the future is sure to hold exciting developments.
Ensuring UAS flight safety in the NAS beyond the latest regulations requires collaboration and coordination with an Unmanned Traffic Management (UTM) system, like NASA's research platform, as well as manned flights through NOTAMS, which are advisories containing information regarding essential knowledge to personnel and systems concerned with flight operations. Taking a system like the FAA Flight Service Station into consideration is also essential for collaboration.
Ensuring safety requires real‐time situational awareness and coordination of not just the UAS's location but the environment in which it is operating. All of these layers offer advanced safety information to support safe operations for both manned and unmanned flights. The last tier of safe flight support involves detect and avoid and vehicle-to-vehicle communications.
The ship‐to‐shore flight demonstrated the real‐time situational awareness features of the multi‐layer approach to safely operating UAS in the NAS. Many of the findings that Simulyze achieved during the event will be used in future efforts to further humanitarian solutions, as well various commercial operations through UAS technology. These findings will support the continuing innovation and safe integration of unmanned aircraft into the highly complex network that compromises the National Airspace.
Contact us today to schedule a demo and to learn more about Simulyze's Mission Insight technology.
DroneBlog