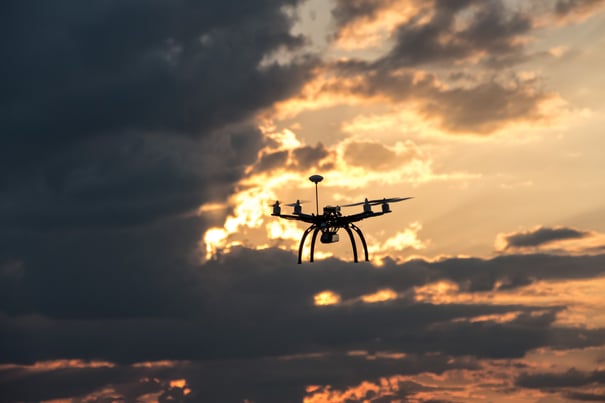 Among the many industries benefiting from the increased availability of drones or UAS (Unmanned Aircraft Systems), is the security sector. Drones have become an asset to public safety especially with the help of operational intelligence (OI) technologies like Mission Insight™ to improve situational awareness in shared airspace. They are regularly used to conduct search and rescue missions, assess crime scenes and monitor and manage special events. Large events such as the recent presidential inauguration or the upcoming Super Bowl require the kind of intense security measures that drones uniquely provide.
However, not only are drones being used for defensive security purposes, but counter-drone technology is also on the rise to combat potential security threats such as drones used by operators hoping to sabotage large scale events.
For example, police, military and security personnel working around the inauguration had to account for the large number of attendees as well as potentially large groups of protestors. Additionally, security forces were faced with the challenge of keeping the large influx of people within designated areas, as well as quelling any potential violent outbursts.
A major security crackdown was called for, and because of this, drones were among the list of prohibited items during the historic event. Security forces not only prohibited attendees from bringing drones with them, but the FAA added airspace restrictions. The FAA has special restrictions on the airspace surrounding the nation's capital. The restrictions now state that recreational or non-recreational UAS are only allowed to be operated under specific conditions for use between 15 and 30 miles of Washington, D.C. However, the FAA created increased restrictions for the inauguration as well as the following day for the Women's March on Washington to a 30-mile radius for all operators.
Prohibiting drones and restricting airspace were not the only measures used to protect the events in January. With the growing popularity of the technology, a wider market has been created for tools to defend against drones entering restricted airspace. Anti-drone technology was among the security measures used to enforce the airspace around the inauguration in January. All kinds of creative methods have been demonstrated recently, including everyone's favorite video of a drone getting taken out by an eagle.
More traditional technology includes monitoring the GPS signals that drones emit, finding radio signals that indicate presence of UAS and even using drones to fight drones. For example, there is technology from DroneShield that was used at the recent inauguration which measures sound frequencies to detect the rotor blades of UAS, can send radio waves to interrupt the signal between the drone and the operator, and then safely force the rogue drone to land.
Rogue drones are also a security concern at large sporting events such as the recent Super Bowl. Last January, the FAA issued a similar No Drone Zone in Santa Clara, Calif., during Super Bowl 50 at Levi's Stadium.
UAS have become mainstream for aerial photography and filming of sporting events, such as at the 2014 Sochi, Russia Olympics, to give audiences spectacular views. However, at this year's Super Bowl LI held at the NRG Stadium in Houston, Texas, there were strong restrictions on drone operators and the surrounding airspace. As a designated National Security Special Event, additional UAS restrictions were put in place as well as a No Drone Zone around the stadium. Temporary flight restrictions on game day prohibited drone operators from flying within a 10 to 30-mile radius of the stadium, put in place by the FAA.
Interestingly enough, the only drones that were allowed into the game, were the 300 dancing drones launched above the stadium during Lady Gaga's halftime spectacle. Transforming from stars to a waving flag, it was the first time the colorful drones were used at an event of such a scale. The brief, but memorable performance was a feat to pull off and required an exemption from the federal government, yet they pulled together a show that combined drone innovation with Lady Gaga's artistry for a truly unique experience.
The relatively new potential threat drones pose to large public gatherings is undeniable and anti-drone technology is growing because of it. Whether it's drones fighting other drones, or drones acting as security cameras, UAS are only going to become increasingly essential to monitoring special events.
Simulyze's Mission Insight™ is necessary for operators to fly safely in the national airspace, providing situational awareness. Built on their proprietary OI platform, Mission Insight™ processes large streams of data in real time to provide UAS operators with a common operating picture in a single, customized graphical interface. This is essential when flying as it can instantly notify operators when they near restricted airspace, which is often temporary for high-profile events like those highlighted above.
Contact Simulyze today to schedule a demo and to learn more about our OI technology and how helps to ensure safety throughout our skies.
DroneBlog