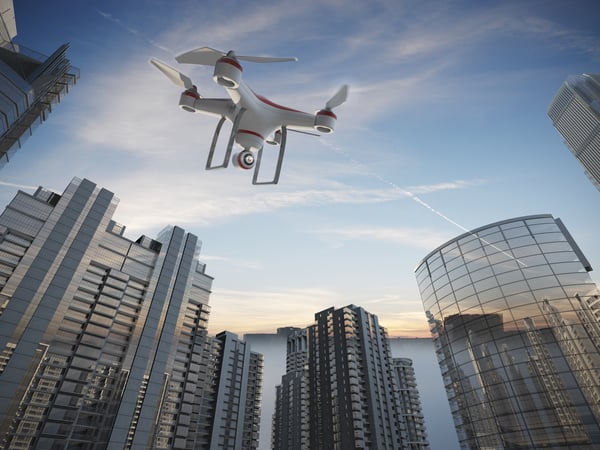 Though drones increasingly become fundamental to contemporary life, from pizza deliveries to emergency response tasks, the discussion about their potential to impact urban planning and landscape architecture has been lacking. Nonetheless, these small but sophisticated devices are set to become a crucial instrument in the architect and urban planner's toolbox.
While the Federal Aviation Administration (FAA) continues to refine its guidelines on drone flight in the national airspace, commercial industries are realizing the potential benefits that drones can deliver. The increasing number of drones in our skies has brought about safety concerns. However, UAS are safe to operate, particularly with the help of operational intelligence (OI) technology to improve situational awareness in shared airspace. The most recent FAA rules for the commercial operation of drones were surprisingly business friendly, which prompted inspiration to use drones for urban planning and design.
UAS Elevates Urban Design
Urban development requires intense planning. Traditional methods and techniques commonly used in the process emphasize data collection, analysis and tedious field work. The greatest challenges these industry professionals face is collecting decent on-site information and data. And as climate change and sustainability gradually empower cities to make decisions with limited resources, the need for data-driven decision-making will become ever more essential. This is where landscape architects and city planners are finding the potential of UAS technology to transform the planning and design industry.
Today, as urbanization rapidly increases, cities today are facing unprecedented changes. Without proper infrastructure, we face detrimental problems of congestion, pollution and more. To reduce the impacts of urbanization, developers are experimenting with integrating UAS technology to improve things like energy efficiency—not to mention improving worker safety, cost and time effectiveness of traditional planning methods.
Drones and Urban Planning Across the Globe
Planners and engineers at the global consulting firm, Arup, have recently begun utilizing drones to retrieve data from difficult-to-access areas and highly populated cities. They looked to emerging drone technology to fill the information gaps they were experiencing with traditional methods. Recently, the consulting firm teamed up with DJI, one of the world's largest drone manufacturers, for an urban development project in Shenzhen, China.
Thirty years ago, Shenzhen was a small fishing village; it's now a flourishing city home to nearly 13 million people. Located in southern China, Shenzhen's climate is very hot and humid throughout most of the year, and Arup's developers wanted to use drones to map out, plan and design a comfortable environment for pedestrians.
Customarily, Arup sends out 10 to 15 people to laboriously map a proposed building site. Today, developers can enjoy access to aerial survey data at an unprecedented level. Arup's developers can utilize the mapping and surveying capabilities of UAS to collect vast amounts of data much quicker and in three-dimensional form, adding a new level of spatial dynamics to the design process.
Also, with UAS technology data is collected faster, cheaper and more safely than ever before. For instance, where traditional building inspections can be invasive and time-consuming, cameras with thermal imagery technology can help quickly diagnose air leakages to improve a buildings' energy efficiency. Environmental sensors attached to drones can help influence design in practical ways as well. Drone technology can model the airflow between buildings, influence placement of vegetation and even direct the way pedestrians access and walk through the city.
With UAS and OI technology, urban planners can continue creating great places to live for growing communities and ensure that a city has the proper flexibility to adapt to the future.
OI Technology Supports Urban Development
OI technology has proven that drones can safely operate in shared airspace with enhanced situational awareness. Built on an operational intelligence platform, Simulyze's Mission Insight processes and delivers a range of analytics, from distance and proximity calculations to complex terrain analysis comprising line of sight and intervisibility. Together with OI, thermal imaging, sensory data, GPS tracking and the ability to present accurate data in real-time, UAS produce better-informed decision-making to benefit the urban planning industry.
The commercial drone industry is becoming increasingly business friendly, and as regulations continue to ease and foster the environmental and urban planning sectors, developers can be empowered to build safer and more efficient cities. Essentially, they can make better informed decisions that will help shape a better world for everyone.
Schedule a demo now to learn more about operational intelligence (OI) and how it provides the foundation needed for drones to take flight for urban planning.
DroneBlog