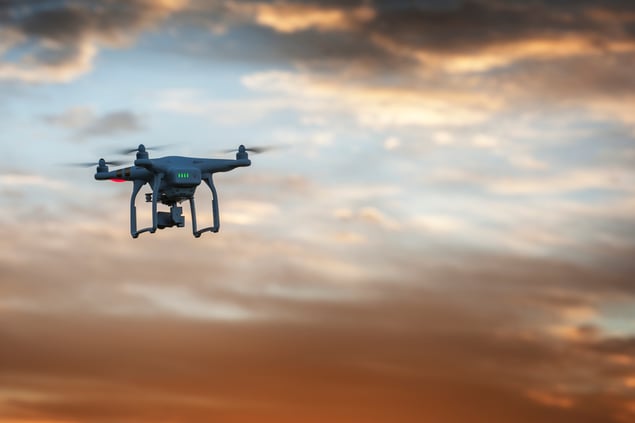 Commercial drone flight is slowly becoming a reality as various industries realize the benefits that unmanned flight delivers. While much ado is being made of enterprising companies capitalizing on the Amazon delivery business strategy, the potential for unmanned aircraft systems (UAS) flight expands far beyond college students' ability to get a burrito in record time. From disaster relief and precision agriculture to utility inspection and film and TV production, UAS technology is delivering real-world benefits across the globe.
Many of these applications require real-time insight into drone flight data. As seen at the recent drone traffic management test flights held by NASA this spring, the ship-to-shore drone event this July, and most recently the 10th Annual UAS Summit and Expo this August, the value of real-time data insight is unprecedented. Real-time flight data insight can ensure safety throughout our skies, thus propelling the future of the UAS industry forward as the Federal Aviation Administration (FAA) determines the next steps for integrating drones into the National Airspace System (NAS).
The use of Simulyze's Mission Insight™ Operational Intelligence (OI) platform and application in most of these events and demonstrations has proven the significance of OI for safe integration of UAS. In particular, at the 10th Annual UAS Summit and Expo last month, industry leaders and speakers touched on the past, present and future of the UAS industry. I was fortunate enough to speak on improving integration of UAS into the NAS through situational awareness during a panel session. Along with other industry experts, I discussed how streamlining the process to analyze large streams of data from disparate sources can further support safer flights for drones and UAS in both the local and national airspaces.
These successful tests and conference discussions are a sign of things to come and have placed an emphasis on the exciting opportunities that UAS and real-time data insight can provide without disregarding safety.
How OI Helps Flight Operators Gain True Real-time Insights
OI provides the foundation needed for UAS flight and real-time data insight. The technology enables an application like Mission Insight, which is built on a proprietary OI platform, to process and analyze large streams of data from disparate sources in real-time, which provides UAS operators with a common operating picture (COP) in a customized graphical interface.
OI essentially bridges the gap in data flow to enable flight operators to quickly and easily access data from anywhere, in any format, providing a full COP. With this, users can better perform predictive, preventative and reactive analysis based on sophisticated algorithms for complete operational and situational awareness.
Organizations are able to attain real-time intelligence using OI technology. It integrates and correlates big data sources from any platform to standardize the information. This grants access to total insight into real-time events.
The complete operational view of workflow data provides deep analytics, real-time processing, insight and intelligence that enable better-informed decisions.
Where Real-time Data Insights Are Most Needed
Real-time insights are especially important to certain industries that are comprised of flight operators who need to access rapidly changing operational data to support critical decisions and workflows. For example, emergency response and law enforcement teams need real-time data to quickly assess threats in their environments. Real-time insights can allow them to quickly assess damage, investigate crime scenes and improve situational awareness to improve the safety of their first responders, as well as the public at large.
The oil, gas, environmental and utilities industries can also profit from real-time insights. With improved access to data while UAS are inflight during inspections and surveys, operators can more quickly identify areas of concern in hard-to-reach locations and alert users to potentially dangerous leaks or unsafe equipment that could become a hazard.
Precision agriculture could also benefit from real-time data in UAS flights. With instant data analysis, operators can routinely monitor crops throughout the season and detect and correct problem areas before their yield is affected. This approach is a much more cost-effective and productive means of crop surveillance and management, and provides a way for farmers to check for disease, pests and other issues that could plague their fields.
The Future of UAS
Other industry experts at the UAS Summit and Expo included NASA's director of Airspace Operations and Safety Program, John Cavolowsky, and other experts and large and small business leaders who have partnered with NASA's UAS Traffic Management Program (UTM). The event gave a substantial overview of the future of UAS and opportunities going forward. The UAS community came together to discuss ways to secure approval for beyond-line-of-sight operations.
Coincidentally, in other recent news, the FAA's rule for small, unmanned aircraft went into effect August 29, specifically safety regulations for non-recreational aircraft weighing less than 55 pounds. This will certainly make things easier for future drone entrepreneurs as rules regulating the industry become active and many more rules are sure to come.
Nonetheless, these new rules are still quite restrictive, particularly the requirement that operators keep drones within their line of sight. This might make sense for less sophisticated drones that require an operator's full attention, but the restrictions limit companies from putting drones to many valuable uses such as search and rescue operations, unless they obtain a special waiver.
However, the FAA continues to be mindful of the vast applications for drones and the value that UAS are providing to the public. Although the government still has a long way to go, great strides have been made in integrating UAS into the National Airspace. And with the help of OI technology and real-time data insights, further developments will continue to be made that will help drones safely coexist in manned airspace. The essential goal of Mission Insight and OI is to help support safe and efficient drone operations. The value of real-time insights can't be ignored.
To schedule a demo and learn more about Simulyze's Operational Intelligence technology contact us today.
DroneBlog