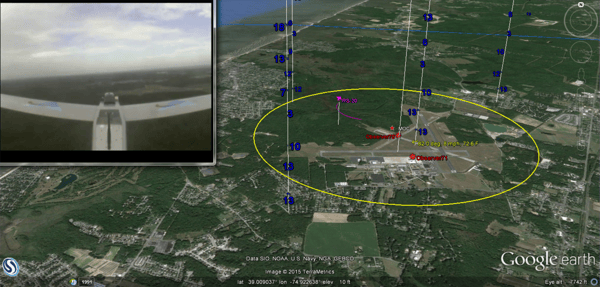 It was inconceivable just a few years ago, but today drones are coveted by hobbyists and businesses alike—steadily flying off the shelves and into people's homes and offices. They are being used more and more for commercial purposes as thousands are entering our skies. This industry growth has inevitably resulted in growing safety concerns.
Ensuring unmanned aircraft systems (UAS) can safely be integrated in the National Airspace requires careful execution and a technical solution that can incorporate data from multiple sources for a complete operational picture. Operational Intelligence (OI) has proven to be key to commercial drone adoption and is positively impacting drone safety. This technology has already been tested and proven in real-world, non-civilian applications—and those uses are showing that OI can hold the key to more widespread use of drones for commercial purposes.
Drones and Safety
As excitement and enthusiasm continues to grow around UAS and the regulatory framework continues to take shape, more consumers are looking to buy UAS for personal use – and more businesses are using them, too. These prospective operators want to fly, and fly safely, but many don't realize that just because you can buy a UAS, doesn't mean you can fly it anywhere or for any purpose.
UAS are inherently different from manned aircraft. The U.S. has one of the busiest and most complex airspaces in the world, so introducing UAS have been challenging for both the Federal Aviation Administration (FAA) and the aviation community. The FAA has taken an incremental approach to safe UAS integration.
According to the FAA, "When you fly your drone anywhere in the nation's airspace, you automatically become part of the U.S. aviation system. Under the law, your drone is an aircraft. So while the rules for drones may be different, you have the responsibility to operate safely."
Regulators have been tasked with determining how to promote safety without infringing on the rights of citizens and businesses that wish to use drones for legitimate purposes like photography, filmmaking or news gathering. The FAA has taken the lead in regulating drones. In December 2015, it started requiring users to register their unmanned aircraft, and recent rules for limited commercial drone use have been proposed. According to some drone producers and businesses that want to use them, the rules will be too restrictive. However, technology like OI platforms and applications like Simulyze's Mission Insight™ are being considered to help solve this issue.
What is Operational Intelligence?
Because OI is a new technology to apply to drone flight, the FAA is understandably taking a measured approach. By adopting OI, manned and unmanned flights are able to "talk" to one another via real-time data processing for drone pilots. The military has been employing OI technology for decades, providing dynamic analytics that would be greatly beneficial to the commercial drone industry.
To improve drone safety, applications built on OI platforms can integrate vast amounts of data from multiple disparate sources to provide in-depth insight and intelligence. Even in remote areas with limited bandwidth, OI can provide complete tactical situational awareness. Ensuring the safety of unmanned operations requires the integration of vast amounts of disparate data. OI provides the visibility and insight into data that will help ensure safety in the skies as more drones join the ranks.
Simulyze's Mission Insight application, for example, built on a proprietary OI platform, manages the entire data workflow for UAS missions. It integrates various live event data such as weather conditions, systems information, GIS data and more. This data is processed, analyzed and visualized in real-time to provide in-depth situational awareness, as well as simplifies and streamlines mission reporting and workload requirements. Mission Insight also includes archival and replay capabilities that aid in training, post-operation analysis and reporting, incident investigation and review of operational effectiveness.
By consolidating all data and workflows into one application, mission managers and operators can easily have unprecedented data insight and situational awareness that results in better, more strategic decisions and positive outcomes. Plus, its off-the-shelf delivery model makes integration more efficient and cost-effective.
Commercial drones aren't going away any time soon—more and more are being bought and used by businesses across the country. Fortunately, OI is impacting UAS for the better, making them safer for everyone. Mature, proven OI technology could be just the tool that the FAA needs to help the commercial UAS industry take flight.
Want to learn more about Operational Intelligence and its impact on the commercial drone industry? Download our free eBook, "Operational Intelligence: Enabling the Future of Commercial Unmanned Operations."
Or contact us to schedule a demo and learn more about Simulyze's operational intelligence applications for UAS operations.
DroneBlog