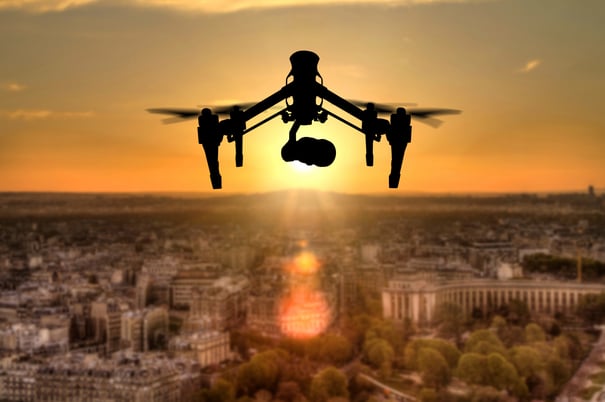 Business is booming for drones and the economic potential of wider use of unmanned aircraft systems (UAS) is enormous. UAS for military applications have been around for decades, but recreational and commercial uses are new territory. With drones in the hands of novices, there's been plenty of controversy around them.
As the aviation industry continues to determine if UAS should regularly share U.S. airspace, many see drones as a safety risk, while others—including large, global corporations—see them as the next wave in business innovation. Which side is right? Can Operational Intelligence (OI) play a role in the resolution and make both sides happy and secure?
Drones and Big Business
Drones have already become great tools for tech and retail giants like Amazon, Google, Walmart and Sony, not to mention the various industries like law enforcement and public safety, construction, real estate, agriculture, film making and photography that stand to greatly benefit from commercial drone usage. Many large business execs with their fingers on the pulse of tech trends realize the myriad benefits drones could provide by integrating the technology into their operations. Later this year, for example, Facebook's Mark Zuckerberg hopes to have drones delivering Internet to under-served regions of the world.
And this innovative thinking is driving steady industry growth. According to a report from BI Intelligence, a majority of the industry growth is focused on commercial and civilian uses as it shifts away from the military market. Largely driven by commercial industries, the market for civilian drones are expected to continue to grow up to 19 percent annually from 2015 to 2020.
Are Drones a Safety Risk?
Before a business can deploy a drone, it must assume specific certificates and authorization from the Federal Aviation Administration (FAA), the authority over all U.S. airspace and regulator over the domestic use of drones.
Nevertheless, questions have surfaced about whether federal flight rules for drones are strong enough to prevent accidents and midair collisions. The FAA itself and others are worried about the safety risks drones could potentially cause, particularly if flying within airspace for passenger and traditional commercial air traffic. Ever since commercial drones began entering the National Airspace, there have been reservations about the risks and safety concerns and many are worried about how these drones could affect their individual privacy.
FAA chief Michael Huerta believes the agency is becoming more nimble as "innovation is moving at the speed of Silicon Valley." They are working to quickly respond to demands for commercial uses of small drones and promoting ways to integrate them into the national airspace.
How does Operational Intelligence fit into all of this?
OI technology will help businesses with innovation and will ensure safety in the U.S. airspace. OI can allow commercial organizations to analyze complex events in real-time, gaining insight and intelligence into events as they occur. The OI platform integrates vast amounts of data from multiple disparate sources to provide in-depth insight and intelligence, empowering organizations to make better-informed, strategic decisions that result in positive outcomes. Through a graphical dashboard, OI provides improved situational awareness that will further the vast business and technological opportunities for commercial businesses.
OI can also help accelerate commercial UAS adoption. The technology prioritizes information to provide complete mission and flight information at the fingertips of UAS operators. Those using an OI platform can collect vast amounts of data in a central location, such as weather, GPS tracking, radar intelligence and video metadata. All of these features of OI will help ensure safety above as more drones enter the skies.
From filming James Bond films to aerial views of sporting matches, drones aren't slowing done in the commercial sector. The entertainment industry is not alone in wanting to explore the benefits of this technology. Corporations across the globe are realizing the potential and see drones as the next wave in business innovation. Some of the biggest advancements in business and technology are happening through drones.
While much of the conversation is focused on drones for entertainment, disaster recovery and public safety, they can also make businesses more precise and more efficient—the possibilities for innovation are endless. The commercial drone industry is still young, but it has begun to see tremendous growth and investments from large corporations.
Although many large corporations view drones as the next wave in business innovation, the industry is still working to determine how much of a safety risk UAS can pose in the U.S. airspace. With the help of OI, businesses can ensure the safety of the national airspace as well continued innovation. It's a win-win for everyone.
To learn more about operational intelligence's potential impact on UAS adoption in commercial applications, download our free eBook.
DroneBlog