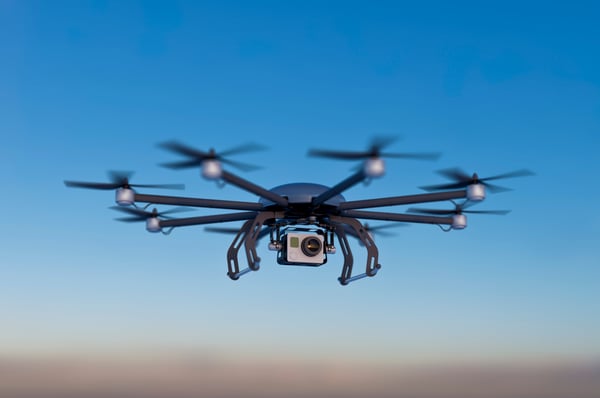 The 2016 Rio Olympics have come and gone—the first Olympic Games to be held in South America. As we saw Simone Manual make Olympic history or watched Michael Phelps wrap up his storied run as the most decorated Olympian, another type of history took place behind the scenes. Unmanned aircraft systems (UAS) helped to power the Games and even changed the way we watched them.
Theatrics are a staple of every Olympics opening, and Rio was no exception. The Summer Games kicked off in Brazil with a vibrant opening ceremony that was an incredible show for audiences across the world—and drones were there, capturing it all with never-before-seen camera angles. We've now gone through this year's Summer Games, and drones were everywhere, providing viewing angles we've never had before of the outdoor events and Brazil's dramatic natural landscapes.
There has been an explosion of drone technology in television ever since the London 2012 Olympic Games. Drones are increasingly being used in TV production for everything from car commercials to news programs to televised sports. They are becoming an essential part of an aerial filmmakers' set of tools because of their comparative ease, agility and low cost. They are safer than traditional methods for capturing the perfect aerial shot, enabling those tough and typically expensive shots to be captured with greater ease. Drones are quieter and cheaper than manned aircraft, and they allow filmmakers to get much closer to their subjects. TV producers can now capture more distinctive footage, too, as drones can go where manned aircraft and other traditional sport camera technology cannot.
During this year's Games, broadcasters experimented with hovering cameras. For example, Ron Chakraborty of the BBC deployed two drones at the Rodrigo de Freitas Lagoon in the hopes of providing a unique perspective of the action during the rowing competition, in particular.
Dave Gordon, a consultant for the Olympic Broadcasting Services (OBS), the International Olympic Committee body responsible for coordinating TV coverage of the Games, also believes that drones help to avoid the "distorted view" supplied by more traditional side-on cameras during certain events.
However, broadcasters are making sure to avoid a repeat of the incident with alpine skier Marcel Hirscher last year, when he was inches away from being hit by a nose-diving drone at a competition in Italy.
"Safety is key," said Chakraborty. "We're having to be very careful with these things to make sure they don't fly over the public and they have to have a 30-metre-wide space when they land. Trying to find that space is quite tricky."
Drones and Safety in Rio
But as uses for UAS filming takes off, safety concerns rise. Massive security operations were put in place to ensure the safety of audiences and athletes at the Olympics. Due to this, several temporary no-fly zones were initiated to prevent personal drone users from flying into air space around sports arenas in Brazil where international athletic competitions are being hosted. Restrictions were established at the behest of, and with coordinates provided by, the Brazilian military. The no-fly zones and flight restrictions were in place until the events completed on August 21.
While drone pilots may have found it frustrating that they aren't able to capture this amazing event, it shows how drone organizations are working with government and regulatory bodies to ensure peace of mind to the wider public.
However, drones are being utilized for other crucial operations. Not only were UAS being used for commercial aspects at this year's Games, but they're also being used for environmental monitoring, particularly in regards to the Zika virus. Brazil has been applying cutting-edge technology to fight the virus, and local authorities in Brazil have taken severe measures to fight widespread Zika as they send drones to find and destroy breeding grounds of the Aedes Aegypti mosquito.
Most notably in Brazil's most populated city, Sao Paolo, UAS are being used to find mosquito traces in gardens, homes and buildings. A projected 60 million residences and business centers have already been identified for drone surveillance by the Brazilian government. The virus has more recently made its way to North America and Europe as confirmations of the first cases emerge. As the Zika virus continues to spread, officials consider drones highly useful tools to monitor and access such territories, especially remote, difficult to reach locations.
How Operational Intelligence Can Empower Drone Safety
As in the U.S., Brazilians have been hesitant to adopt widespread drone usage throughout their country due to safety and privacy concerns. Fortunately for both countries, the proven Operational Intelligence (OI) technology and applications can help ease the burden of incorporating drones – specifically those meant for commercial use – into shared airspace.
OI can help accelerate commmercial UAS adoption and allow organizations to analyze complex events in real-time, providing insight and intelligence into events as they occur. The platform integrates vast amounts of data from multiple disparate sources to enable better-informed, strategic decisions that result in positive outcomes. OI provides improved situational awareness through a graphical dashboard that helps create a wide array technological opportunities for commercial businesses.
The great benefits of drone technology in filmmaking and TV production can be augmented even further with OI. The technology prioritizes information to provide complete mission and flight information at the fingertips of UAS operators. UAS are becoming more robust, and the ability to stabilize high-quality cameras is becoming much easier, so it's highly likely their popularity in commercial and entertainment purposes is going to continue to rise.
Although it has been difficult in the U.S. and Brazil to get past restrictions and regulations allowing drone usage, it is likely that this is soon to change, especially with the help of OI technology.
The use of unmanned aerial vehicles for sports photography is far from a passing gimmick, as we've seen most recently at the Rio Summer Olympics. In fact, you should expect more and more athletic events to be filmed by drone; it may not be long until they are fully integrated into sports broadcasting. UAS may be the future of not only sports broadcasting, but of security and environmental monitoring roles as well. With the help of OI technology, drone operators can guarantee safety of the U.S. and Brazilian airspaces and beyond.
To learn more about the role that OI can play in UAS adoption across various industries, download our free eBook, "Operational Intelligence: Enabling the Future of Commercial Unmanned Operations."
DroneBlog