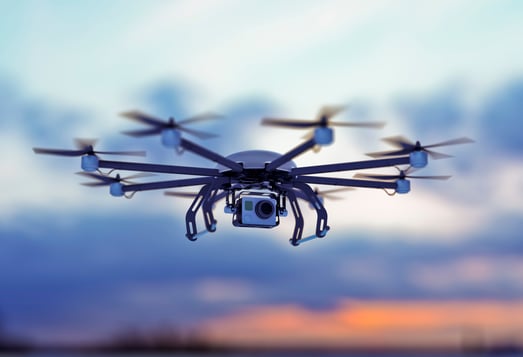 We talk quite a bit about the continual state of flux of the commercial unmanned aircraft systems (UAS) industry on this blog. Enterprising companies are eager to take advantage of the opportunities at their fingertips, but everyone has a stake in ensuring that drone flight regulations evolve so that the skies are as safe as ever.
Such was the discussion during the InterDrone International Drone Conference and Exposition, which brought together the commercial drone market in Las Vegas in September. The event featured panels and discussions for builders, buyers and flyers of commercial drones. Industry leaders and speakers flocked to the event, touching on the past, present and future of the UAS industry.
Some of the most debated concerns at InterDrone were the safety and risks involved in the continued integration of drones into the National Airspace System (NAS). Pre- and post-flight data analysis and planning is particularly critical to the success of many commercial UAS and their missions. Operational Intelligence (OI) technology is vital to these two steps, especially with regards to flight safety.
Operational Intelligence and Flight Safety
An application such as Mission Insight™ is built on a proprietary operational intelligence (OI) platform, which can process and analyze large streams of data from multiple sources in real-time. OI is necessary for data analysis of both pre- and post-flight information so drone operators can optimize flight safety and achieve situational awareness.
Commercial UAS operators have real-time visibility into information, which provides them a common operating picture and a seamless workflow from pre-flight planning to post-event replay and grants operators with insights and intelligence to make better-informed decisions.
OI is essential to pre-flight analysis, as it will provide complete information prior to flight such as location, weather conditions, line of sight and complex terrain analysis. The system integrates weather information and data from ground-based GPS systems showing the location or velocity of other aircraft in the area. This information can be processed in real-time to support post-flight analysis as well.
Applications running on an OI platform give users a comprehensive information management solution by providing post-operation analysis, archival and replay capabilities, analytical tools and much more. For post-flight analysis, OI is able to gather the various types of recorded flight information and process the data feeds from every flight to provide analysis and guarantee continued positive flight outcomes.
Real World Applications for OI
Pre- and post-flight analysis can greatly support many industries using drones and increase safety in a variety of ways. Commercial UAS applications range from agriculture, product delivery and humanitarian aid to real estate, mapping and the list goes on. Drones have been increasingly moving from military-type uses to more commercial purposes such as photography, television and film production—from Olympics coverage to the latest James Bond film.
In addition, data analysis with OI is particularly important for certain industries that have traditionally involved putting humans in potential danger. As OI offers a common operating picture, even in the most remote environments or low-bandwidth situations, it provides in-depth data access and situational awareness for complex mission-critical events such as search and rescue missions and even construction or utility inspection applications.
Pre-flight UAS data analysis and planning is also necessary to ensure safety during all flights. By consolidating all in-flight data and workflows into a single application, operators can easily access data and utilize post-flight data analysis for much-needed insights and to continue making strategic decisions for continuous positive outcomes.
Operational Intelligence's Value in UAS Adoption
Although the Federal Aviation Administration (FAA) has been commended for its recent steps to integrate UAS into the NAS, the industry has been faced with much concern about safety as more and more drones take to the skies. Fortunately, Simulyze's OI platform can be the solution the FAA needs to ensure the safety of our NAS with its ability to provide unprecedented data insight.
OI has proven that drones can be safely integrated into the airspace and can provide vital information to drone operators. It offers the visibility and insight into data that will help ensure safety in the U.S. airspace while UAS continue to take to our skies for various purposes and industries.
Contact us today to schedule a demo and learn more about our Operational Intelligence (OI) technology.
DroneBlog