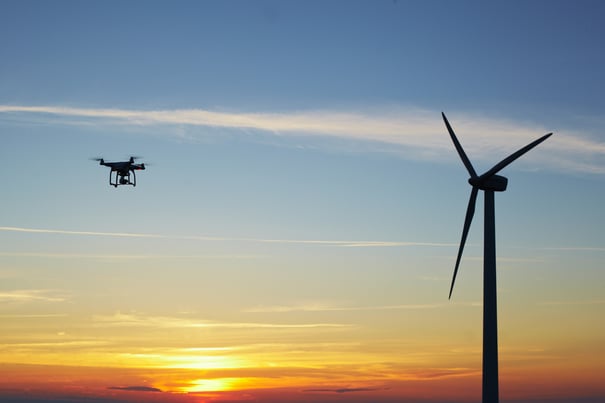 Commercial industry use of drones began to grow around 2014 as a result of individual authorizations and Section 333 exemptions from the Federal Aviation Administration (FAA). Since the FAA issued their latest rule on commercial UAS operations, commercial entities have finally gotten the green light to further incorporate drones as a part of their businesses. According to a recent study by A 2015 study from Navigant Research, one commercial sector is expected to make an especially significant impression in the coming years: the wind power industry.
Wind power is booming, with installation rates continuing to climb every year and according to the market research firm wind turbine drone inspection could be a $6 billion industry by 2024.
Alas, thousands of turbines are popping up all over the world, many of which are taller than the Statue of Liberty, making their blades difficult to inspect. And all of those turbine blades and the mechanical parts that harness their power eventually break down. Up until recently, a repairman would climb the typically massive structures to perform high-flying, high-risk maintenance on the turbines. Unfortunately, this is a very dangerous job that can lead to fatalities. And as more turbines are being built, more accidents are occurring. Because of this the industry has been looking for a way to curb these risks. The answer? Send in the drones.
How Operational Intelligence Supports UAS Wind Turbine Inspection
Drones are expected to play a strong supplementary role to current inspection techniques. According to the Navigant Research report, not only are inspections conducted using clean power commercial drones flown by professional operators more safe, but they can even offer higher-resolution results than ground observation alone. The use of Simulyze's Operational Intelligence (OI) platform and application for example, provides the foundation needed for safe UAS flight in the National Airspace and real-time data insight.
The evolution of clean power drones to include multiple rotors for stability in wind, longer battery life for extended use and sharper optics for more detailed observation has made the technology more useful for wind turbine inspections. UAS equipped with cameras, which capture images of the turbines, can access areas for closer visual inspections that humans haven't been able to due to visual line of sight and safety reasons.
Drones also offer a much quicker way to capture the same type of data that would normally take two to three workers several hours to produce a series of photos for a report of the wind farm. Drones, on the other hand, can digitize that data and turn it into something operators on the ground can analyze almost instantly.
Also noted in the 2015 study is the increasingly important role played by data analysis systems for automated photo analysis across entire fields of turbine blades. And with OI, organizations are able to attain real-time intelligence. The technology integrates and correlates big data sources from any platform to standardize the information. This grants a complete operational view of workflow data and provides deep analytics for insight into real-time events that enable better-informed decisions.
The Future of UAS Turbine Inspection
Although some of the larger drones can reach up to just under 900 feet, the average industrial wind turbine is a total of 328 feet. And since the newest set of rules state a maximum altitude of 400 feet, the industry should be able to effectively employ drones to the best of their advantage at this time. However, the report does make clear that this use of drones will not entirely displace more traditional techniques, but will serve a supplementary role in inspections of onshore installations, while becoming standard for inspections of offshore installations.
Wind turbine inspection is a tricky business, and drones can be the key to unlocking an easier, safer, more efficient method. Advances in OI technology as well as the new regulations are certainly helping to accelerate this growing industry. Clean power-generating drones will help to take wind energy to unprecedented heights—opportunities are in the billions.
Want to learn more about the role that Operational Intelligence (OI) technology can play in wind turbine inspections? Download our eBook, "Operational Intelligence: Enabling the Future of Commercial Unmanned Operations."
DroneBlog