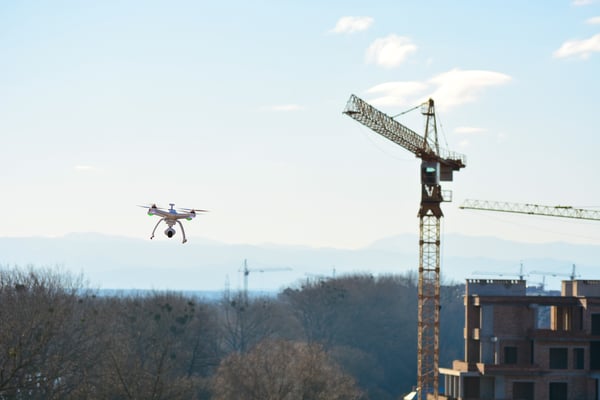 Utilities spend millions of dollars inspecting infrastructure from power lines to pipelines, which are often in hard-to-reach, dangerous places. However, unmanned aircraft systems (UAS), or drones, are set to revolutionize the way utilities industries solve inspection issues.
Utilities companies are particularly eager to use drones to mitigate hazardous, time-consuming and expensive work. Drones can better monitor sensitive infrastructure for dangerous situations as well as improve distribution reliability and are even expected to cut inspection costs in half.
The Future of Drones and Utility Inspections
Not only are they cutting costs, reducing time and decreasing injuries, but with drones, companies can also obtain high-quality, detailed images of overhead utility lines to look for damage, corrosion and more. They are able to provide engineers with real-time data, images and post-inspection analysis—the benefits of which are causing a shift away from traditional utility inspection methods.
U.S. electrical companies, for instance, believe that drones have great potential for inspecting remote, often dangerous power lines and transmission towers. For example, the nation's largest state public power organization, the New York Power Authority (NYPA), has partnered with a Canadian utility on the first drone inspection of the ice boom between Lake Erie and the Niagara River in an effort to make repairs that are quicker, safer, more environmentally friendly and considerably less expensive.
"Drone technology has so much potential for helping the utility industry monitor assets that need to be maintained in a safer, faster and more cost-effective way," said Gil C. Quiniones, NYPA president and CEO. "Aerial drones can gather data and images that provide a timely picture of any problems so that repairs can be expedited."
The two companies recently came together to test the new drone technology during the Niagara ice boom, which is a series of floating steel pontoons and cables installed every year to protect the hydroelectric power stations. Drones provide the opportunity for inspection to occur remotely so that repairs can be performed more efficiently.
Alan Ettlinger, NYPA's research, technology development and innovation director who took part in the test, noted that a drone is a more cost-effective and efficient way to maintain the boom. For instance, it can cost $3,500 for a helicopter or $3,300 to send a crew of four for a full-day inspection by boat. Once the drone is purchased, the only cost is labor – less than $300 a trip.
After a successful test workshop, the NYPA hopes to continue employing drones in future inspection procedures such as post-storm investigations or being on hand to spot test transmission lines. Drones can get much closer to infrastructure than helicopters, and have superior surveying and mapping capabilities, sensors and high-resolution cameras, which help to reduce labor-intensive undertakings for work crews.
Operational Intelligence Supports UAS Utility Inspections
The electrical industry is not the only business sector eager to employ UAS, however. Companies in oil, agriculture and construction are also considering UAS technology. Wind turbine drone inspection, for example, is set to be a billion-dollar industry by 2024. Drones can be the key to unlocking a more efficient, safe and cost-effective method for the wind turbine inspection industry, among others.
Advances in operational intelligence (OI) technology as well as easing regulations are certainly helping to accelerate this growing trend in utilities. Utilities companies are saving time and money with commercial drone applications by more effectively monitoring and maintaining their assets. And with Simulyze's OI platform and application for example, organizations are able to attain real-time intelligence that enable better-informed decisions and provides the foundation for safe UAS flight for inspections and maintenance.
To learn more about the many ways utilities companies can benefit from drones, download our infographic: 7 Reasons Why the Utilities Industry Should Be Employing Drones now!
Or schedule a demo today to learn more about the advantages that Operational Intelligence (OI) and UAS technology can offer utilities companies.
DroneBlog