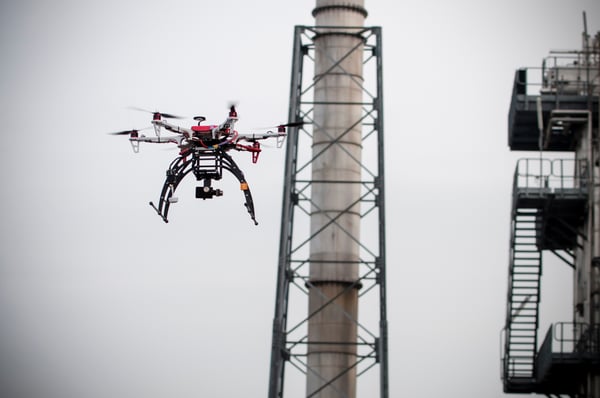 Many utilities industries are experiencing significant growth, yet current inspection and maintenance methods are costly, time-consuming and even dangerous.
There is a better way: Drones.
Commercial unmanned aircraft systems (UAS) is a booming sector with growing excitement around the opportunities of UAS technology, and utilities industries aren't wasting any time in taking advantage of new Federal Aviation Administration (FAA) rules authorizing drones for commercial purposes. Drones and big data are helping utilities companies cut costs and become more efficient in many ways. While traditional methods are expensive and tedious, new analysis tools and long drone flights are streamlining infrastructure inspections in a variety of industries from solar power to wind turbines, oil, gas, electrical and more.
As a result, drones are expected to play a strong supplementary role in existing inspection techniques. A customary inspection process includes capturing 3D images by helicopter with LiDAR technology or manual inspection by ground crews. Utilizing helicopters is notoriously expensive, not to mention the hazards of flight adjacent to transmission lines. Today however, a new generation of companies are using drones and big data analytics to streamline and economize infrastructure inspection in utilities industries.
In particular, the reduced cost of drones and decreasing size of advanced sensors, such as LiDAR, is helping to grow the industry. LiDAR sensors are now light enough to be carried by drones, making them perfect for mapping applications.
Additionally, drone data was manually reviewed, but now 3D mapping and models combined with current and historical data can be quickly analyzed based on different circumstances, allowing potential issues to be addressed without delay. Not only can UAS analyze data for risk management, utilities can also leverage data to forecast future spending on field work, reducing surprises to the budget.
According to USA Today, more than 20 utilities companies had already tested UAS for inspecting transmission and distribution lines for damage by August 2016 using the temporary rules from the FAA. They are eager to test them further, while more and more companies are seeking permission to use drones for similar purposes.
Operational Intelligence Supports the Future of the Utilities Sector
Fortunately, with Simulyze's Operational Intelligence (OI) technology, real-time data analysis provides the foundation needed for safe UAS flight in the National Airspace. With OI, users can better perform predictive, preventative and reactive analysis powered by sophisticated algorithms and unprecedented situational awareness. For in-flight inspections and surveys, improved access to data helps operators quickly identify areas of concern in hard-to-reach locations and alert operators to potential hazards.
The power of drones is being utilized to save on maintenance and inspection costs while decreasing field work time. Drones offer significant benefits for utilities companies, and as the FAA considers letting commercial UAS fly over populated areas and implementing less restrictive rules for visual-line-of-sight, this sector is sure to flourish.
To learn more about the many ways utilities companies can benefit from drones, download our infographic: 7 Reasons Why the Utilities Industry Should Be Employing Drones now!
Or schedule a demo today to learn more about the advantages that Operational Intelligence (OI) and UAS technology can offer utilities companies.
DroneBlog