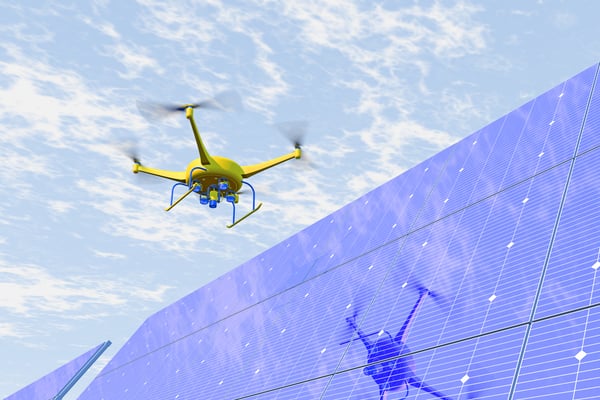 Commercial industry use of drones continues to grow and is expected to make an especially significant impression in the coming years particularly in regards to solar power. Unmanned aircraft systems (UAS), or drones, are in the midst of revolutionizing the renewable energy sector—as long as they don't get their wings cut short by regulations.
One of the fastest growing sectors in the nation's economy, solar power is booming in the United States, with installation rates steadily rising. Jobs in the solar industry have doubled since 2010, and solar power installations were also estimated to double between 2015 to 2016.
Drones have already begun to disrupt the solar power industry and are expected to dramatically increase the efficiency of solar panel installation and inspection with thermal imagery capture and analytics.
Operational Intelligence Supports UAS Solar Inspection
In July 2016 for instance, a leading maker of drones and camera technology, DJI, announced a partnership with a cloud software platform to increase solar panel inspection efficiency via UAS. They've come together to provide new inspection and thermal imagery capabilities.
Due to these recent achievements, drones are expected to play a strong supplementary role to current inspection techniques across utilities industries. The use of Simulyze's Operational Intelligence (OI) platform and application, for example, provides the foundation needed for safe UAS flight in the National Airspace as well as real-time data insight.
Today, this drone technology holds the key to more efficient, cost-effective and safe solar panel installations and inspections. One of the many benefits UAS offers is thermal imagery and mapping, which can ensure optimal placement of solar panels for maximum energy production. Drone technology also offers the development of pre-flight maps, which reduces the time required on-site while the inspection of completed installations can identify cleaning and maintenance needs.
With aerial surveys and 3D models of potential solar sites, drone operators can plot out where panels should or should not be installed in order to make a new solar farm, for example, as low-cost and compact as possible. Those 3D models can also eliminate the need for people to risk their own safety by climbing onto roofs, while precise property and structural measurements can reduce human error.
With OI, organizations are able to obtain real-time data. Drone applications built on OI platforms can integrate and correlate big data sources from any platform to standardize the information to provide in-depth intelligence. This grants a complete operational view of workflow data and provides deep analytics for insight into real-time events that enable well-informed decisions.
The Future of UAS Inspections
While coal and natural gas remain the most prominent power sources for the nation's energy sector, solar advocates believe tax incentives and government mandates continue to be successful in promoting solar development. For example, California set a goal of getting 33 percent of its electricity from renewable energy by 2020 and is on track with another bill to require solar panels on 15 percent of new buildings.
The utility industry's adoption of drones could yield enormous benefits for the solar power industry and the renewable energy sector overall. Solar panel inspection hasn't changed significantly over the past decade, but introducing safe and accurate drone-based 3D models to replace survey wheels and measuring tapes is a step forward for the industry. New inspection workflows and thermal image processing capabilities are an exciting development for the solar energy industry and beyond. These functionalities open up a wealth of new possibilities for businesses and government organizations looking to put drones to work.
Schedule a demo today to learn more about the role that Operational Intelligence (OI) and UAS technology can play in solar power inspections.
DroneBlog