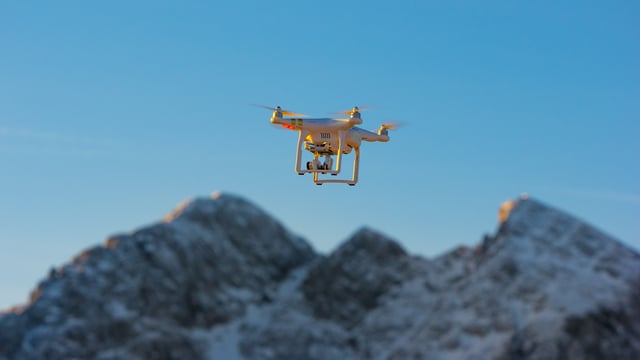 Climate change is one of the biggest topics facing humanity today and, for climate scientists, data is everything. However, collecting data is rarely a quick or inexpensive task, particularly when that data is best acquired via a bird's eye view of Greenland's melting ice sheet or the rising sea levels on California's coastlines, for instance.
Here's where unmanned aircraft systems (UAS), more popularly known as drones, can play an integral role in the study of climate change. Drone technology can fill the data niches inaccessible to conventional methods of aerial data collection. It can offer researchers that essential bird's eye view, but at far less cost than traditional methods such as helicopters, chartering planes or satellite data.
Environmental Protection from a Drone's Eye View
Now, UAS is not necessarily a new technology for climate scientists. Researchers began utilizing UAS in the 1990s, however that technology has been far surpassed by what is available to researchers today. Nowadays, scientists have access to drones that are more affordable, capable and user-friendly than what they were working with just over a decade ago.
For instance, sending out a UAS to survey an area requires minimal personnel, and can be done in a matter of minutes. "We can go from launching a drone to having workable data in four hours, versus maybe four days if we're using an airplane," recounts David Johnston, assistant professor at Duke University's Nicholas School of the Environment.
In addition to making gathering data easier, less expensive and less time consuming, operational intelligence (OI) technology offers real-time data analysis which provides scientists with more accurate data with which to study changes to the planet and mitigate the accompanying impacts. While flying over vast, rugged landscapes, UAS can collect GPS coordinates, real-time video and still images of the situation, helping scientists establish priorities at mission control. This data can be overlaid on area topography and maps using an OI platform like Simulyze's Mission Insight.
Not only data analysis but the images drones produce can also provide great opportunities for researchers. UAS imagery enables photogrammetry by collecting still images and video that are pieced together to form 3D representations and maps that can be used to predict events like the current sea level rise in coastal areas. Also necessary for studying the effects of climate change, thermal imaging cameras can be used to study animal populations in a variety of environments.
"It [drones] gives you a scale you can't get anywhere else," said New York Times photographer, Josh Haner. Drones can easily communicate the shocking effects of climate change to inform scientific and public understanding of the situation. This footage of the Marshall Islands, for example, demonstrates how millions of people are in danger of losing their homes due to rising water levels brought on by global warming. "Drone imagery can add a new visual layer that hopefully draws viewers into an important story, giving them a new perspective on a complicated subject," concluded Haner.
OI Promoting Climate Research Innovation
Although drones are providing more valuable opportunities for scientists than ever before, drone operators have limitations of their own. In particular, they need the Federal Aviation Administration's (FAA) authorization to operate their drone in the national airspace.
However, drones along with applications that run on an Operational Intelligence (OI) platform are proven to be more accurate and effective than operations carried out by traditional methods. Though the industry has faced concerns about the number of drones in our skies, it's important to remember that OI can provide a key foundation needed for scientists to continue to study and protect our planet.
UAS are opening up new research possibilities and deepening the scientific record in ways that are having measurable impacts on our understanding of changing environments. Drones don't just offer a safer way for scientists to observe and collect data; they're often less costly, more efficient and more precise than traditional approaches. This technology is only going to become more important as a capable research tool and more so as drones become further integrated with other advanced technologies.
Schedule a demo today to learn more about Simulyze's OI technology and its impact on the continued adoption of commercial UAS and climate study.
DroneBlog