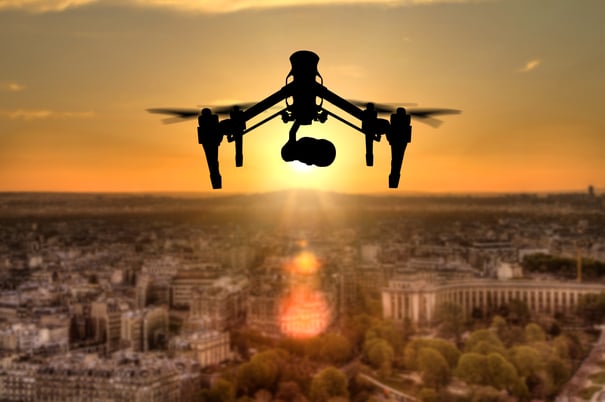 This year's Consumer Electronics Show (CES) displayed much of the latest in drone technology, from underwater Unmanned Aircraft Systems (UAS) to a selfie drone. But at this February's NextGov "Drones for Good" event in Washington, D.C., we got a little more insight into the future of the exciting technology, particularly for commercial drones in government. The event explored the policy behind regulating this new technology as well as how drones may be used in the upcoming years to benefit citizens. It included topics such as search and rescue, medical supplies transport and yes, pizza delivery.Although drones often invoke thoughts of military operations, the latest high-tech gadgets for techies or even the budding drone delivery service market, NextGov was set on fostering conversation around the many different ways drones are and will be used for good. It essentially demonstrated how the government is using one of the most promising technologies of the 21st century to benefit various industries and communities.
It brought together many "government techies" who are increasingly testing non-military drones for various programs and missions around the government. It also sought out some of the most impactful innovators in government and the UAS industry to speak on the work they are doing to better their agencies, better serve citizens and discuss future applications of drones in the federal government.
Speakers included Mark Bathrick, Director of the Office of Aviation Services in the Department of the Interior (DOI); Hoot Gibson, the Senior Advisor of Unmanned Aircraft Systems Integration at the Federal Aviation Administration (FAA); and Robbie Hood, Director of the Unmanned Aircraft Systems Program at the National Oceanic and Atmospheric Administration (NOAA).
All speakers offered insights into the future of drone technology and discussed how they were using them to benefit society. For instance, Matt Scassero, Director of the University of Maryland UAS Test Site, explained how the University's engineering school tests drones for medical deliveries and aids first responders. Mark Bathrick of the DOI then described how pilot optional helicopters are being used to fight wildfires and safely explore terrain that is too dangerous and costly for humans to enter. And Robbie Hood discussed how NOAA uses low and high altitude UAS to fill the gaps in weather data. The agency hopes to utilize drones for weather data, tornado predictions, gravity measurements and other mapping uses with real-time data collected by drones.
Operational Intelligence and the Path to Increased Commercial UAS Adoption
The conference panel noted that the next area to watch for innovation will be in high altitude, near space uses, such as surveillance and communications. However, some UAS adoption hurdles that the industry is facing include: sufficient sense and avoid technology, cybersecurity, culture, payload and data concerns.
Fortunately, Simulyze's Operational Intelligence (OI) platform can be the answer to many of these hurdles. OI helps organizations gain real-time intelligence and supports situational awareness. It integrates and correlates big data sources to provide a common operational view and total insight into real-time events. By doing this it bridges the gap in data flow to enable drone missions from commercial unmanned operations to homeland security tasks to make better informed decisions.
Simulyze provides the foundation needed for safe UAS flight in the National Airspace. Together, OI as well as the most recent regulations are helping to foster the growing commercial UAS industry.
All in all, one of the biggest things we learned from the NextGov "Drones for Good" event was that the only thing that limits drone technology is your imagination.
Contact us today to schedule a demo and to learn more about the role OI can play in further accelerating the commercial UAS timeline while ensuring safety throughout our skies.
DroneBlog