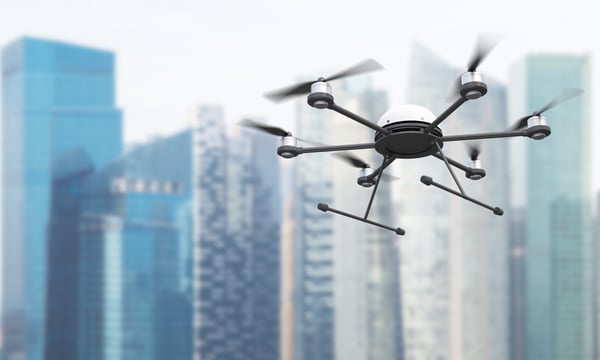 Could the same technology that's currently being used for aerial pizza deliveries and capturing news coverage also be the solution to fixing America's crumbling infrastructure?
That's what researchers at PricewaterhouseCoopers (PwC) are advocating.According to a recent report, PwC found that the best potential prospect for drone applications is in the infrastructure sector, which they predict to be a $45.2 billion opportunity. Infrastructure maintenance and inspection by drones is cheaper, safer, faster and likely to become an increasingly important tool for American infrastructure companies.
Unmanned aircraft systems (UAS), or drones, are used in multiple industries to safely and efficiently inspect hard-to-reach assets and they are essential in monitoring sensitive infrastructure for dangerous situations. Many infrastructure industries are already taking advantage of drone technology, from oil and gas to electric utilities. And the one thing this broad variety of industries has in common is the valuable equipment and assets, from bridges to cell towers, which need to be monitored and inspected on a regular basis.
At the moment, most of this kind of work is done manually by work crews or manned aircraft that fly over and capture images of sites. Not only can these be time-consuming and costly processes, but results are often poor quality as well. These monitoring methods are in desperate need of updating—in fact, the majority of the work can be performed more efficiently via drone.
Operational Intelligence Supports Infrastructure Industry
The potential for drone solutions in infrastructure is vast. Savings of up to 50 percent can be applied to inspection and maintenance of bridges, tunnels and even offshore oil platforms. And not only do UAS offer cost-saving opportunities, time efficiency and increased safety, but the data gathered, images captured and post-inspection analysis stand to revolutionize the way the infrastructure industry solves maintenance issues.
UAS enables the rapid, repeatable and safe collection of high-resolution imagery. For example, aerial mapping can also be used to track job progress and conduct site surveys. And each three-dimensional models made with aerial imagery can contain millions of data points.
For instance, with Simulyze's operational intelligence (OI) platform UAS operators can operate safely and efficiently with real-time data insight and situational awareness. Drone applications built on OI platforms can also integrate and correlate big data sources from any platform to standardize the information and provide in-depth intelligence. This offers a complete operational view of workflow data and provides deep analytics for insight into real-time events that enable well-informed decisions.
Fortunately, UAS technology is developing by leaps and bounds. Infrastructure maintenance and inspection is becoming an increasingly serious matter and paving the way for the sector to improve operational efficiency.
To learn more about the many ways utilities companies can benefit from drones, download our infographic: 7 Reasons Why the Utilities Industry Should Be Employing Drones now!
Or schedule a demo today to learn more about the advantages that Operational Intelligence (OI) and UAS technology can offer the infrastructure industry.
DroneBlog